The newest
Enchufate
radio recording for
Vocalo
(81.9FM), tentatively called
Sandra's Seven in Seven
, took place Thursday evening.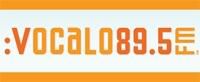 The segment mentions some updates from artists like
Bomba Estereo
and
Las Kumbia Queers
and will feature new music from
Marcelo Baez
('El Dia Mas Triste De Mi Vida'),
Puya
('No Hay Mal'),
RA Amaro
('Con Mi Luna') and
Daniel Cros
('Siempre Nos Quedara Paris'), among others. Stay tuned for the broadcast date and time.
Speaking of '
Con Mi Luna
,' it's also the title of the upcoming full-length release from
Zamandoque Tarahum
, one of Chicago's pioneer rock en español bands. More commonly known as the lead vocalist and guitarist for
Zamandoque Tarahum
,
RA Amaro
will be doing a solo performance for the Mestizarte fund raiser on
Saturday, July 24th
at
Casa De La Cultura Carlos Cortez
(
Mestizarte Gallery
- 1440 W. 18th Street). This event will help raise funds for the Pilsen institution, which has been working with local artists since 1989 and functions as a community gallery and artist workshop. Along with
RA Amaro
, the musical entertainment for the night includes acoustic performances by
[.DESCARGA.]
,
Soul Pollution, Maribel Cruz, Diana Mosquera
and
Luis Guillermo
.
Art on display will include works by such artists as
Salvador Jimenez Flores
,
Isaura Gonzales
and
Julieta Alvarez
with more to be announced soon. This is an all ages event and gets started at 7PM. (I'll be hosting so come say hi!)
Summer weekends in Chicago are sometimes too good to be true, but they are. Yaha! With so many free concerts in the park, at neighborhood festivals and all over the city it's a wonder anyone is ever home. Tonight,
Friday
, it's no exception with a couple of free concerts I suggest you check out. First is some sexy Argentinian electro-tango by
Narcotango
at
Grant Park's Spirit of Music Garden
(7:30-9:30PM) with free dance lessons to start the night's show (6-7PM).
More info here.
Afterward, all you devilish fiends need to find your way over to the free ghoulish concert by
Misfits
Tribute band
Devilocks
, which is formed by members of lat/alt rock bands
Sobre, [.DESCARGA.]
and
La Parka
. This is a fun show to watch as
Misfits
fans get New-Jersey-Housewives-crazy up in there when they listen to anything
Misfits
related. I admit I do too because the band rocks their music.
My favorite cover, of course, would be '
Angel Fuck
'. Oh and '
Where Eagles Dare
'. And '
Last Caress
'. '
American Psycho
' is "hells yes!" And who doesn't like '
Mommy...Can I Go Out and Kill Tonight?
' I can't wait. The show takes place at
Main
(7320 W. Irving Park Road) around 9PM and it's free.
(Note: I was told by Devilocks to mention: "Be there or we'll come and getcha! Bwahahaha!")
Gulp.
On
Sunday
,
El Señor Decker
and
El Frozty
(if you don't know who they are, where have you been?) will be celebrating their birthdays at
Cobra Lounge
with a full-on night of live band performances by
Los Pecados de Maria
,
Stank Star
,
Marujah
(all the way from Tennessee, yeehaw!) and a special performance by members of
Handsome Devilz
and
Saber
. Plus a Cobra Sunday is not complete without the musical stylings of
DJ Resistol 5000
. Free? Yes. Drink specials? Yes. Fun? "Hells yes!"
Saturday, take your pick and tell me what show I should head out to. If it rocks, I'll be there. (strevino@enchufate.com)
See you on the radio!