It was a long, long week, last week as they usually are when there's so many events we have to cover, not including the business meetings in between. It was so long in fact that I'm barely recapping last week at the end of this week and... sigh. But, it was an excellent week of music so any exhaustion from it was replaced by the refueling energy an amazing concert provides. Yes. (Sure!)
Monday and Tuesday were off nights but being who we are we had several "parties" going on in our lovely neighborhood, Pilsen.
Photos:
Ray's Stencil "No Shitting!" /Signs of Spring in Pilsen / Rainy Chicago as seen from the Damen Pink Line / Kyle The Neighbor at our Cinco De Mayonesa Fest
First up on Wednesday was the *free*
Calle 13
concert at Metro. Wow. Wow. Wow. And, WOW! Yes. Unbelievable. Amazing. Spectacular.
Residente
has such a powerful presence, on stage and off, and together with
Visitante
and his crew, especially their sister on stage hypnotizing everyone with those moves (wow!) transformed the night into a mind-blowing orgy of sounds and words. They started out with their
Cafe Tacuba
collaboration song
"No Hay Nadie Como Tu"
and just kept hitting it strong from them on. The crowd was lit! Pure, raw energy. Unbelieveable. Seriously. You completely missed out on something so, so beautiful.
Calle 13
with a full band? Ahhh! Dream come true! My favorite song of the night was definitely "Se Vale To-To"
This video doesn't compare to the performance I saw, but here's the song I'm referring to:
(Photos up on
www.enchufate.com
)
Afterward, we headed over to
Purgatory
to listen to
Hillary Rawk
! spinnin' What a great fkn night!
Here's my phone photo from
Metro
:
On Thursday, we had one of the best nights we've ever had at
La Botana
for
Karaoke en Español
. We had several out of town visitors thanks to Jose. And it's quite evident our sponsor-supported promotions, including recent write-up in
Cafe Magazine
, plus our longevity with the night is bringing in more and more new faces. I love it. It was also my first night tending bar there and it was crazy! Bucket after bucket of beer. It seemed endless the way these folks were drinking. Sheesh! But they were having a great time, and, well... thank you so much for the generous tips. You guys rock! ROCK!
Friday afternoon, Hector and I stopped by for a quick bite at this restaurant...umm... I'm trying to find the name on
Metromix
but no luck so far. Anyway, the food was superb. Cajun at it's finest. Generous portions at a reasonable price. Can't beat it. Delish! We then headed over to the massive Bottom Lounge. Talk about huge. This place is just big. Very corporate feel to it but we were looking forward to the
En Tu Ciudad Showcase
, which was great.
DJ Chavez
totally impressed me with his music choices. Thank you for not doing the usual 80's spanish rock stuff. Thank you for taking it outside the box. The bands were awesome too. Our only tiny little suggestion is that next time the organizers talk to the bands about not leaving when they're done playing. How rude. Tsk tsk. Regardless,
Remezcla.com
and
MySpace Latino
did a nice job. Oh and great job on getting
Calle 13's
guitar player to join the night. He loved
Los Vicios De Papa
. So did we.
Saturday was a nice day to relax and catch up with life. Finally. But on Sunday, we headed over to House of Blues for the
Panteon Rococo
concert. Opening were
Malafacha
and
Los Vicios de Papa
. I've got to be brutally honest here but... I think
Los Vicios de Papa
should've headlined. For realz, yo! They are on a roll with their music, their presence, the energy and everything tuned, on beat and with such creative style. Watch out, Chicago... this is the band to be on the lookout for in stores real soon. En serio. Anyway, the place was jam-packed like sardines. Fun times! Panteon rocked... but
LVDP
outshined them.
Phone Photo of Panteon Rococo concert:
This week, tonight actually,
Hidrogenesse
from Spain is performing at
Green Dolphin
. It's free before 11PM so if you're in the mood to hear something new, go check them out.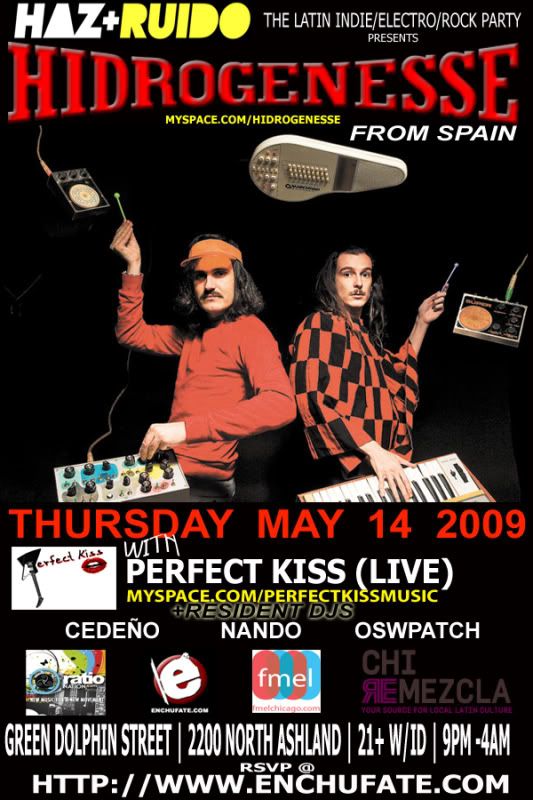 We'll be over at La Botana for our weekly Karaoke night. If you're not at Green Dolphin, better be at Karaoke. He dicho.
See y'all lovely tippers tonight at La Botana.
-ST
ps - don't forget to listen to Radio One Chicago from 6-10PM on 88.7FM WLUW and then Ruido De Fondo at 10PM on 90.5FM WRTE. Yay!