That's right. With that in mind and as a fresh start to this new year I'd like to remind all of you musicians out there to keep me posted on your career, your music, your events and anything else related to the wonderful world of entertainment. Fortunately, through
Enchufate
, we're able to expose new music to new audiences, not only through the website (via videos, photos, event updates, reviews and interviews) but also through broadcasting on
89.5FM
. Our segment takes place on the
MusicVox
every
Wednesday at 7:30PM (CST)
. For those outside Chicago, you can listen online at www.vocalo.org
Although our segment is focused on the world of
Latin Alternative
entertainment, that doesn't stop us from showcasing and being an outlet for all sorts of great independent music. If you're a Chicago musician interested in performing on
"Live from Studio 10,"
a weekly, one-hour live performance that takes place at
WBEZ
studios, send us a quick email and we'll give you details on how to submit your music for consideration. This is a great opportunity for all types of musicians.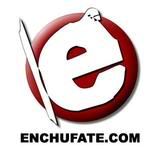 As a media source, we are continually looking for, if not creating, new outlets for exposure. Knowing what you're up to as an artist only enhances these endeavors. We're currently working on a weekly podcast, video documentary, book and much more... so, please keep us posted on your music and anything you believe others need to know. We'll do our best to assist in promoting your event, exposing your talent, reviewing that new album, documenting your career and supporting your creativity in whatever manner we can. We're '
Enchufate
' for a reason. Plug US in to YOUR world:
info@enchufate.com
2011 will be a great year for all of us. Rock on and let's continue supporting each other.
Love & Music,
Sandra
Team Enchufate