I'm sure you heard about the uniqueness of today's 123456789 once-in-our-lifetime ocurrence. It hasn't hit Facebook yet but I'm sure in a couple of more hours everyone and their mother will be posting about it. Heh.
Last Saturday at my casa was fantabulous too. Our hosts,
Giroscopio
and
Eddie
, on the one's and two's, played all sorts of vintage tropicalia, samba, funk, cumbias and yeye all night as the music-loving guests danced 'til the wee hours of the morning. We were louder than the fireworks outside. How's that for bad@ss? Because this is so fun and it's not music readily available elsewhere in Chicago (as far as nights dedicated to this) we'll be hosting a
Tropipower Night
on a weekly basis coming soon. Oh si. ¡Que delicioso!
On Sunday after our TV recording, we went to
Cobra Lounge
to celebrate Chris Decker's birthday. I was looking forward to celebrating for at least 45 minutes of
Misfits
tunes, covered by the best friends tribute band -
Devilocks
- but, as usual, they ran out of time and the band only got to play 20 minutes. Ugh. It was a rockin' 20 minutes, though. Thanks, guys. You made the night end on a high note.
Speaking of delicioso, the
Bostich & Fussible boys of Nortec Collective
, together with the boys of
Mexican Institute of Sound
and
'su majestad imperial'
Silverio
are performing this
Saturday
at
Congress Theater
.
Enchufate
gave away tickets to this show and it is so exciting to see so many people asking about the tickets and the concert, despite not really knowing all that much about the artists. (I can confirm this through our online contests. When I ask simple questions, most of the answers received are wrong, but obviously these folks want to go and find out more.) So we've been doing our best to expose more of the artists' music through brief bios, links back to their sites and video postings. I love you, technology.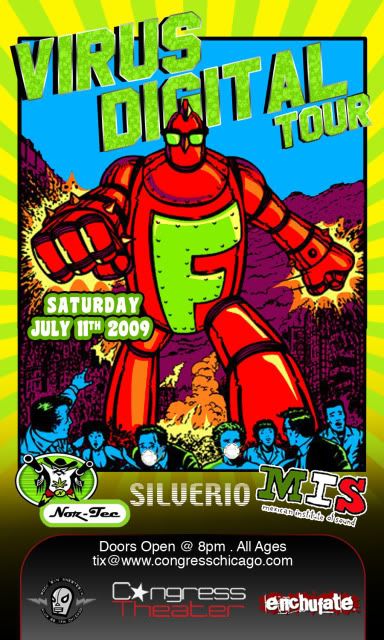 [[Side Note: Eeeek! It was a huge compliment to be asked by three, count'em THREE different reporters (two city newspapers, one magazine) for more information about the artists performing on Saturday. They asked me! Me! Wow! Me! I'm beyond flattered. Thank you!]]
E>N>E:Chicago Rocks will be recorded Sunday at
Tiger O'Stylies
. Performing:
Kelroy, Herencia de Zapata
and
Urban Twang
. 6-8PM, free.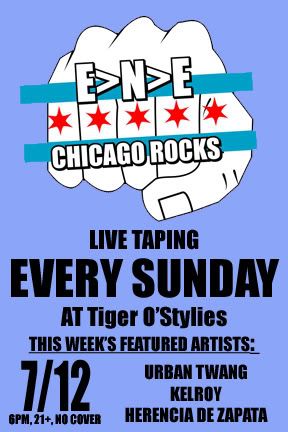 After the taping, we're heading over to Wicker Well for Rockotitlan's "Rock & Roots Sundays" featuring
Benjamin Anaya & Los Extraños Unidos
and my boys,
[.DESCARGA.]
Punk rock and samba. Lovely!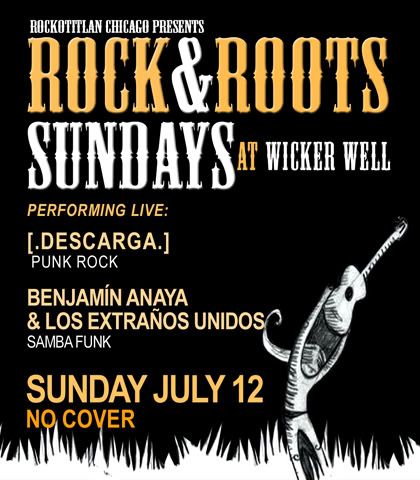 So, let's start rockin' the weekend beginning today! Watch our tv show tonight at 8PM on
Channel 25
. Three new bands are featured:
Oui Si Only You
,
Tomorrow Has Arrived
and
Ruta 120
. Right after, tune in to
88.7FM
for
Rock Sin Anestesia
, the longest running latin alternative radio program in the country. Si, si!
Tomorrow,
Les Nubians
perform at
Green Dolphin
and there's our weekly
Karaoke Night
at
La Botana
plus
Resistol Cincomil
will be spinning over at
The Zoo
. Sweet!
See you at the next show!
-ST