As I'm sure most of you Tacubos know,
Cafe Tacuba
celebrates their 20th Anniversary this year and they're doing so with 20 Concerts in 20 Cities aka 20:20. We're lucky enough to be one of those twenty cities and they'll be here this
Friday, June 26th at Congress Theater
. I'm excited about this show because there's the possibility of an interview this time. Yes, after all these years I might finally get the opportunity. Fingers crossed, yo!



"Pero la vida siempre vuelve a su forma circular..."

my favorite song because of the lyrics...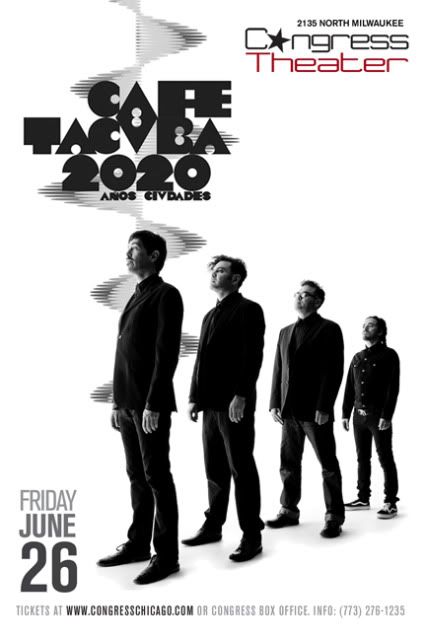 I'm honored to have been asked to join the blogging team for
Cafe Magazine
. I'll be covering music and entertainment with a weekly write up. I'm excited about this opportunity and hope you'll join me on that journey. So, if you're keeping up with this blog and have news to share in relation to lat/alt music and entertainment, please keep me updated. I'll do my part to get the information out. ¡Gracias!
Last weekend was jam packed with all sorts of activities. On Friday,
Gitana
of
Jah Cantors
, who's making her debut as a DJ on
Sunday at Cobra Lounge
(more info below), joined me for the
Chicago Independent Film Festival
at the
A.P.O. Building
in Pilsen. We only caught the last film,
Seki Sano:Vida y Teatro
, a short documentary about
Seki Sano
, a Japanese theater director who lived and worked with many of the leading actors in Mexico. It was an interesting piece (though the sound levels were so off it was hard to understand most of what was being said because it'd get really loud, then really low). I still recommend it.
Afterward, we headed over to
Decima Musa
for the
Pilsen Soundtrack Fundraiser
. We got there in time for
Fandanguero
and their beautiful and lively
son jarocho
, which had everyone dancing, followed by an energetic ska set by my favorite locals
Los Vicios De Papa
. Seriously, these kids need to be on someone's label already, touring as headliners. I'll go so far as to say, and I mentioned this to the singer as well, that when they played at
House of Blues
with
Panteon Rococo
, they completely outshone them. That's how badass these kids are. Their energy is infectious.
Here's a little sampling, which doesn't do them justice, but you get the idea:
I was just informed our
Karaoke
night at
La Botana
will be postponed this week until next Thursday because of their AC situation. No comment on that. I'll update the blog once I know where we're headed on Thursday since we have tickets to
Cafe Tacuba
and more for
Paquita La Del Barrio
to give away.
Who's headed to this year's
LAMC
? I'm not, unfortunately, but there's definitely a lot of Chicago representation this year out there. Yay! It only took 10 years for the midwest to wake up. Hallelume!
Sunday, we're recording at
Reggie's Music Joint
and this week
Hollus, Re. De La Parka
and
Soul Pollution
perform. 6-8PM, free! Right after we're heading to
Cobra Lounge
for our first ever
"Fun(d) Raiser"
where you'll get to listen to more great music from
Maria Blues, Capitulo 2
and
Legion
. This is where my beloved friend
Gitana
comes in as she's participating for the first time as a DJ! Yay! Also DJing are my other favorites
Resistol Cincomil
and the best friend,
Scarecrow
. This is a free event but we'll definitely be taking donations. We'll get started around 9PM so make sure to get there on time.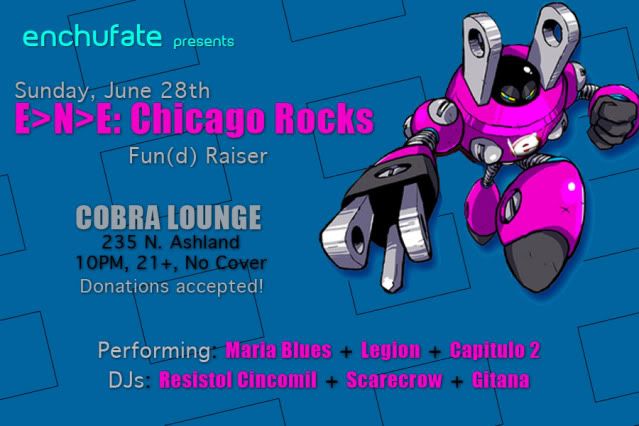 And on that note, see you tomorrow for the Karaoke update!
-ST