Back when I first heard about traditional norteño music being fused with electronic music I was blown away at the possibility. I mean, what? Really... how was that going to happen and who was doing such a thing? It almost seemed like a joke, especially because I was listening to mainstream radio and there was no way something like that would ever get attention. Not on mainstream radio.
I was right about the mainstream radio portion, but since then I've become a huge fan of the originators,
Nortec Collective
, who continue to surprise and delight people from all over the world, with their unique musical magic. Si, magia. Just listen...
This dynamic collective will be performing in Chicago on
July 11th
together with my other all-time favorite,
Camilo Lara
and his
Mexican Institute of Sound
. Plus, I know, it's so good already how much better can it get? Well,
Silverio's
joining the crazyness. Can you imagine the backstage area this day? Wow! Wow! Wow!
I had the opportunity to interview genius
Camilo Lara
at last year's
LAMC
in New York. What a nice man. Really nice! Of course, I was in awe of him at the time but I quickly got over it once he began to talk about his music and things rolled smoothly from there. I learned so much in my three minutes with him. Oooh!
Silverio
was also a treat to interview for our program and I knew he had an eccentric show but man when I saw his show in person, I was definitely surprised. The man is out there! So, if you don't know what I'm talking about, well, first of all
Enchufate
! Then, watch the videos below. Enjoy!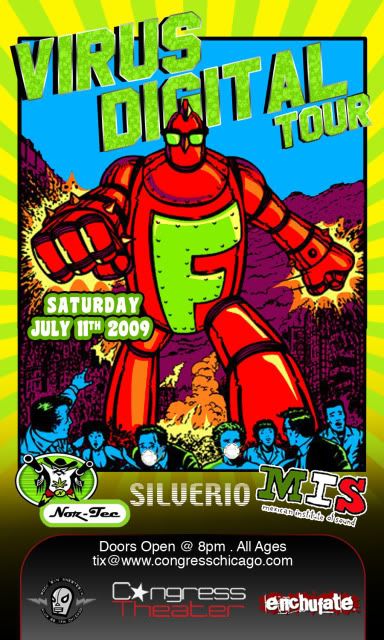 Did you get enough? No? Well, there's more to check out on their websites and MySpace pages so go take a lookie. You'll love it. Promise!
So, it's a rainy and cold Thursday in June in Chicago. In June! What is going on with our city? We haven't felt a "normal" week of weather in forever, it seems. Regardless, nothing ever stops Chicagoans from going out and having a good time... not the cold, not the snow, much less the rain. And of course, knowing the loyal folks that go to our
Karaoke en Español Night
at
La Botana
every week, I won't be surprised to see them all again tonight because we're giving away tickets to the upcoming
Paquita La Del Barrio
concert at
Congress Theater
. Y'all is crazy and I'm even crazier for knowing what I'm getting into tonight with the tequila-loving-wailers who'll be most likely singing ALL Paquita tunes tonight. Ay ay ay. (Hee hee!)
See you around town!
-ST